Thanks to some much needed feedback, I've updated the Swanky Paint page and added better (more) information about the project including screenshots, the manual, art and links to our favourite game developers using Swanky Paint for their game projects and even mini videos of a couple of the things the pixel art package can do.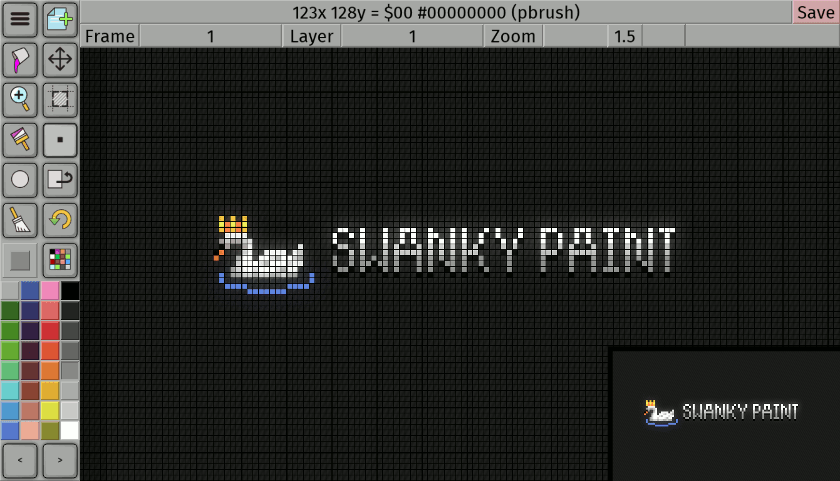 It looks much better now, so much so, I feel more inclined to sharing the link with other people!
I've also added a page for
feedback and bug reports
which I'll place officially when I've designed a much needed footer for the website. In the past, I wasn't so keen on them but lately they seem to make sense in the world of top heavy websites. Besides, I like to see it as an incentive for those that are able to scroll all the way down :}
Finally, the
Sponsoring
page has been spruced up to include a mini, "How to". I feel like the system we have currently is a little clunky and sometimes confusing to grasp. If I was able to put it really simply, it's this:
1 download costs 1 dime.
I have a game project.
My game can have many downloads (different versions, different platforms).
It costs 1 dime to download my game for Android.
It costs another 1 dime to download my game for Linux.
You like my game and want to sponsor it so you can share it with some friends.
When you sponsor my game, you get a personalised page.
You buy dimes from Paypal and give away 10 dimes for the sponsored page.
You've now got 10 copies of my game or 10 downloads for your friends.
In the future, we might streamline this so it reads better!
Meannwhile, visit the new and swankier Swanky Paint page -
http://dime.lo4d.net/dl/swpaint